Hello lovely people,
In this week's Diddi Drama blog we have a lot to discuss! We will be talking about Halloween, Mental Health Awareness Day and the importance of learning about the body in early years.
Happy reading!
Love, Sarah x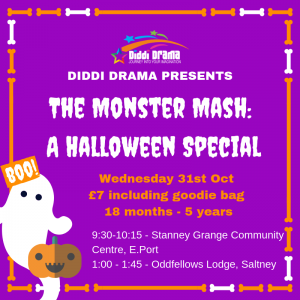 Head Shoulder Knees and Toes: Why it is so important to learning about the body.
A baby or toddler has a natural curiosity about the body. When a baby first notices they have hands they stare at them for ages, trying to figure them out – and that is the case with all body parts. I know 'A' spent a long time staring at her belly button when she realised it was there – not only was that educational but it was really cute to watch her trying to bend over to get a better look, ha. Developing that curiosity and bringing awareness to our body parts is vitally important to early years development.
If you look at the research, it proves the best bit of advice for teaching youngsters about the body is to call it the right name. Although it is cute to call your feet 'tootsies' it can lead to confusion. A great way of teaching your Diddi Drama star the names of their body is through song. There is a reason the good old classics have been around for years. Children learn through repetition, which is exactly what the classics do. Music and song helps to develop your child's vocabulary as well as being fun.
A list of body based songs you could sing this week:
• If You're Happy and You Know It
• Hockey Cockey
• One Little Finger
• And let's not forget One Finger, One Thumb
Other activities that you could do to help at home is get an older roll of wallpaper, get your Diddi Drama Star to lie down and draw around them. Then for younger ones you could draw body parts on the stencil, older ones could draw and label it themselves. Or you could print out pictures and stick them on – so many choices.
On a final note, as it is Mental Health Awareness Day, I wanted to tell you how amazing you are! One of the aims of my sessions is to get parents and children socialising, talking to others and out the house.
It is amazing to have a supportive group around you, so never worry if your child is tired, upset, having a tantrum. It is ok. We all have our moments. At Diddi Drama you have a room full of support and understanding.
See you soon.
Sarah x