Wow! How has that happened? I have survived my first year in business, Diddi Drama is one years old! Early this week I celebrated by hosting a Picnic in the Park in Grosvenor Park Chester. This time last year, I would never have thought that my business birthday would sell out in less than 2 hrs, but it did! I couldn't believe it. 32 children plus siblings, Mummies, Daddies, Nannies and lots of Diddi Drama friends.
We had an amazing time starting with a park themed Diddi Drama session. We played on see saws, feed the ducks, watched butterflies fly through the sky and picked flowers from the rolling hills. This was followed by a lovely picnic where I actually got to chat to lots of my lovely Grown Up Diddi Drama Stars, something that can be hard to do when I am busy being crazy in class. We finished with some great party games – I have to say I have certainly learnt what songs go down well throughout the many birthday parties this year. Thank you to everyone who came and everyone who helped, especially Nanny Drama and Niece Drama.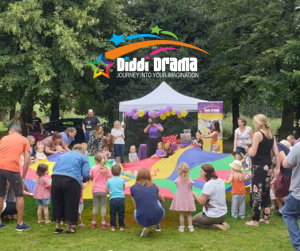 I can't believe how far my little business has come this year. I was doing sessions with only two people in them last September. Now, I have sold out classes ready to start next term and I just cannot believe it. I have absolutely loved this year. It has allowed me to spend more time with my family and meet so many lovely people, making new friends that I wouldn't have made any other way.
Thank you to everyone who has supported me. Whether that is attending any of the classes in Chester, booking a party or letting me attend your Early Years setting.
Here is another year of craziness in my drama classes for 18 month to 5 years! And I wouldn't have it any other way.
Sarah x